This event has passed
All about the Alabama – Dauphin Island & Coastal Hotspots Tour.
We'll spend each night in the same beach house on Dauphin Island. Our house will give us a friendly family atmosphere, with a homemade breakfast each morning. This area of the Gulf Coast is where migrants get their first view of land after crossing the Gulf of Mexico. The Gulf Coast is a great staging area for travel weary migrants.
Dauphin Island is famous for the Shell Mound and Goat Tree migrant traps. Birding daily in and around these locations will almost certainly provide some entirely new birds every day. Nearby areas including Bon Secour and the National Seashore will provide a diverse group of shorebirds, rails, and long-legged waders. Some of the aquatic birds that may show us a bit of southern hospitality include Magnificent Frigatebird (TWO on the 2016 tour!), Least Bittern, Black, Sandwich, and Gull-billed Terns, Marbled Godwit, and both Clapper Rail and Sora. Raptors should include the elegant Swallow-tailed and Mississippi Kites. Song birding is likely to yield Brown-headed Nuthatch, Swainson's Thrush, Yellow-throated Vireo, Prothonotary, Worm-eating, Yellow-throated, Kentucky, and Hooded Warblers, Northern Parula, Orchard Oriole, Blue Grosbeak, and Painted Bunting. It will be a wonderful week on the Gulf of Mexico.
You will receive a $200 discount if you participate in both this tour and the Southwest Louisiana Tour that immediately precedes our Alabama adventure  (see separate Southwest Louisiana Tour itinerary). People that have previously taken advantage of this offer have achieved incredible results with two full weeks on the Gulf Coast!  
We will take a maximum of eight participants. On rare occasion we may extend the maximum to ten participants.
Duration: 8 days
Group Size Limit: 4 – 8
Date: We only run this trip by special request currently
Start: Mobile, AL
End: Mobile, AL
Price:
US$3675 per person sharing assuming 4 – 8 participants
Deposit: 25% of full tour price
Single supplement: Not available for this tour
We can run the same trip at a price similar to the larger group price for 2 tour participants, if they rent their own vehicle and pay for fuel – please e-mail [email protected] for details.
The tour package inclusions and exclusions at a glance
What is included in this tour?
Items that are included in the cost of tour price.
Meals
Accommodation
Guiding fees
Entrance fees
All transport while on tour
Tolls
Whats not included in this tour.
Items that are not included in the cost of tour price.
Domestic and International flights
Items of a personal nature, e.g. gifts
Alcoholic drinks
Personal insurance
Laundry Service
Gratuities
Day 1

Mobile, AL

Meet at the Mobile, Alabama Airport by about 12:00 noon. Or simply continue riding with us from Lafayette after completing the Southwest Louisiana Tour. We will bird our way to Dauphin Island, a lovely barrier beach island, where we spend every night in the same comfortable, spacious, beach house. We can check into the house anytime after 2:00pm, then go birding again!

Overnight: Dauphin Island

Day 2

Dauphin Island

Birding today will include the Dauphin Island hot spots – – Shell Mound, Goat Tree, the Audubon Sanctuary, and the Airport Wetlands. Target birds include Northern Parula, Prothonotary and Worm-eating Warblers, along with Sora, Marbled Godwit, and a good chance for Clapper Rail. Perhaps we'll get lucky again with a Common Ground-Dove, as we did on a previous tour.

Overnight: Dauphin Island

Day 3

Ferry to Fort Morgan

After checking Shell Mound and Goat Tree for new arrivals, we will board the ferry to Fort Morgan, on the east side of Mobile Bay. Last year we found a single male Bobolink near the ferry terminal, plus scores of Blue Grosbeaks, Indigo Buntings, and Orchard Orioles. We will check out all of the birding hot spots near the Fort, a few little side roads, and Bon Secour Refuge. On the 2016 tour, two Magnificent Frigatebirds were spotted, slowly circling at low altitude, just east of Fort Morgan. We plan to have quite a unique, tasty lunch at Lambert's, 'Home of the Throwed Rolls'.

Overnight: Dauphin Island

Day 4

Dauphin Island

We'll check those great spots again for rarities and new arrivals, then head for the productive flats and shallow pools at the west end of Dauphin Island. This area will yield a wonderful variety of shorebirds, terns, and perhaps a few gulls. On a recent tour we saw a number of Manta Rays very close to shore, and last year we found a fossilized shark tooth! We will have a chance for Northern Gannets and perhaps a Parasitic Jaeger or a flock of migrant scoters.

Overnight: Dauphin Island

Day 5

Blakely Island

After breakfast, and a check of the local migrant traps, we will drive to Blakely Island, just east of Mobile. This area of massive flats and shallow pools is the premier shorebird spot in the entire state. We will see a large variety of shorebirds, from the diminutive Least and Baird's Sandpipers, to Marbled Godwits, Black-necked Stilts, and Whimbrel. The tiny Least Terns are always a big hit. There will also be herons, egrets, Glossy Ibis, and Fulvous and Black-bellied Whistling-Ducks. Our evening meal will be at a nice seafood restaurant near the beach on Dauphin Island.

Overnight: Dauphin Island

Day 6

Old Pelican Island

What used to be Pelican Island is now a very long peninsula that extends miles into the Gulf. A recent hurricane changed the entire setting. Shorebirds, gulls, and terns abound there. Atlantic Bottle-nosed Dolphins often put on a very nice show, just beyond the surf. Later we will spend some time on several birdfilled private decks. On the 2016 tour, a Live Oak tree adjacent to one of these decks hosted a very sleepy Chuck-will's-widow! A repeat visit to any of our favorite songbird spots will certainly be in order.

Overnight: Dauphin Island

Day 7

Henderson Camp Road

Today we will head north onto the Alabama mainland for a drive and a walk along Henderson Camp Road, and similar adjacent habitats. Here we have found Red-headed Woodpecker, Eastern Meadowlark, Loggerhead Shrike, Swallow-tailed Kite, Brown-headed Nuthatch, Blue-gray Gnatcatcher, and the large, beautifully-marked Eastern Fox Squirrel. At Bayou La Batre we will see a very impressive shrimp boat fleet, plus look for roosting shorebirds and Black Skimmers. A few short stops will round out the day as we head back toward our beach house on Dauphin Island.

Overnight: Dauphin Island

Day 8

Heading Home

We will enjoy our final great breakfast, check the hot spots, and head toward the local Airport Marsh. This is our last day, so we will try to find any birds that may have escaped us earlier in the tour. We will finish at the Mobile International Airport for your afternoon flights home.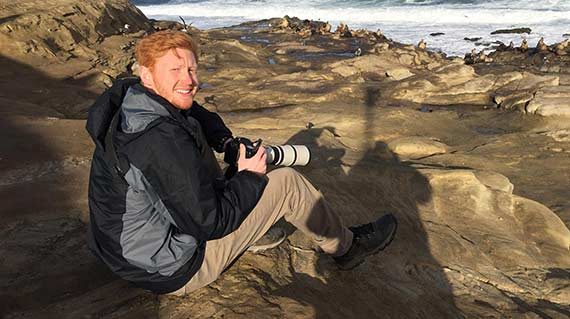 Tours: Alaska, Arizona, California, Colorado, Florida, Maine, Minnesota, Ohio, Texas, Wyoming, Birding Ecotours (Worldwide)
ALABAMA - DAUPHIN ISLAND TRIP REPORT APRIL – APRIL 2016
DAUPHIN ISLAND, ALABAMA TOUR – TOP 10
9 – 16 April 2016
Top 10 lists are voted upon by the participants at the completion of each tour.
1 –  Painted Bunting – A male Painted Bunting was part of a large flock of Indigo Buntings (75), Blue Grosbeaks (50), and Rose-breasted Grosbeaks (12) on the lawn of a private residence on Dauphin Island. WOW!
2 – Chuck-will's-widow – Kim found a male perched in a live oak tree, less than 20 feet from Mary's deck on Dauphin Island, one of our favorite feeding stations. It spent the entire day there.
3 – Ruby-throated Hummingbird – It was quite easy to entice one to perch on our finger as it fed from Mary's feeder. What an experience!
4 – American Avocet – A flock of ten, all in full breeding plumage, was at the West End Beach of Dauphin Island.
5 – Magnificent Frigatebird – We viewed two females soaring above the highway a few miles east of Fort Morgan.
6 – Hooded Warbler – We saw numerous individuals daily, at every migrant trap that we visited.
7 – Red-headed Woodpecker – Good views of two different individuals, one at the Dauphin Island Audubon Sanctuary, and another along a country road on mainland Alabama.
8 – Scarlet Tanager – We found many in the same places that we found the Hooded Warblers, wherever there were trees.
9 – Brown Pelican – Great looks over the open water, with as many as 15 in a single day. Magnificent birds!
10 – Cape May Warbler – A single male was attracted to the red flowers of the bottle brush bushes at the Dauphin Island cemetery. What a gorgeous warbler!