All about the 2023 Alaska – Adak Island – Puffins & Asian Vagrants Tour.
Until recently, Adak was the site of a naval base, and access was restricted. Birding coverage of Adak was sparse through the years due to the former restricted access, so its birding potential is still being discovered. The Navy has left the island, opening it to birders and leaving behind an infrastructure and modern facilities not found at other western Alaska birding hot spots. We'll stay in comfortable townhouses, former housing for naval officers when the base was active. The houses are all furnished and well-equipped.
We'll travel in vans or trucks for some of the most comfortable birding that you can experience in the Aleutians. Based upon recent reports from other birders in the Bering Sea region and our own Adak trips, we know that Adak gets its share of Asian vagrants. A great bird that we certainly hope to see is Whiskered Auklet, a species that you cannot see at Gambell or St. Paul. There's a chance for a view from shore, along with other alcids, Laysan Albatross, Short-tailed Shearwater, and other seabirds.
We cannot make any predictions about what vagrants we'll find, though we'll have an excellent chance for Wood Sandpiper and maybe Lesser Sand Plover, Gray-tailed Tattler, Olive-backed Pipit, Siberian Rubythroat, Hawfinch, and additional Asian species. Past spring tours have also yielded Eyebrowed Thrush, Long-billed Murrelet, Common Greenshank, Brambling, and Eastern Yellow Wagtail.
Some of the regular birds that we expect to find include Red-faced Cormorant, Eurasian Green-winged Teal, Common Eider, Harlequin Duck, Gyrfalcon, Rock Ptarmigan, Black Oystercatcher, Rock Sandpiper, Parasitic Jaeger, Glaucous-winged Gull, Aleutian Tern, Common Murre, Pigeon Guillemot, Marbled, Kittlitz's, and Ancient Murrelets, Parakeet Auklet, Horned and Tufted Puffins. There are also Lapland Longspur, Snow Bunting, Pacific Wren, and and Gray-crowned Rosy-Finch.
We will take a maximum of seven participants. On rare occasion we may extend the maximum to ten participants.
Duration: 8 days
Group Size Limit: 4 – 8
Date: 10 May – 17 May 2023
Start: Anchorage, AK
End: Anchorage, AK
Price:
US$4815 per person sharing assuming 4 – 8 participants
Deposit: US$900
Single supplement: Not available for this tour
We can run the same trip at a price similar to the larger group price for 2 tour participants, if they rent their own vehicle and pay for fuel – please e-mail [email protected] for details.
The tour package inclusions and exclusions at a glance
What is included in this tour?
Items that are included in the cost of tour price.
Meals
Accommodation
Guiding fees
Entrance fees
All transport while on tour
Tolls
Whats not included in this tour.
Items that are not included in the cost of tour price.
Domestic and International flights

Client must arrive in Anchorage by Saturday, 11 May 2019.  The lodging
in Anchorage is not included in the tour fee. Client is responsible
for the flight from Anchorage, AK to Adak Island.

Items of a personal nature, e.g. gifts
Alcoholic drinks
Personal insurance
Laundry Service
Gratuities
Day 1

Anchorage to Adak Island

You will fly from Anchorage to Adak on Sunday, 12 May 2019. From the Adak Airport we'll make the short drive to our lodging facilities, comfortable town houses that formerly housed naval officers and their families when the base was active. They are all well equipped, including a washer and dryer. As soon as everyone has moved in, we'll begin birding. Our first stop is an overlook of Kulik Bay to look for alcids and cormorants. From there, we'll continue to Clam Lagoon, THE hotspot on Adak. This location has yielded THREE of North America's few records of Spot-billed Duck. On previous tours we have found Lesser Sand-Plover, Far Eastern Curlew, Smew, Brambling, and other good birds at the lagoon.

Overnight: Adak Island

Day 2 - 7

Clam Lagoon and Surrounding Areas

We'll spend most of our days looking for shorebirds, Asian vagrants, other migrants, and all of the island's resident species such as Lapland Longspur, Snow Bunting, and Gray-crowned Rosy-Finch. We'll check Clam Lagoon at least once daily, plus other areas including the Old Loran Station at the north end of the island to look for seabirds that may include Laysan and Black-footed Albatross and Short-tailed Shearwater. This is also a good spot for Orcas. We'll visit Lake Andrew where we saw Common Greenshank and Eastern Yellow Wagtail on a previous tour, and the town itself where the few ornamental spruce trees are prime habitat for a vagrant songbird, perhaps a Hawfinch. Part of the excitement of birding on Adak Island is that you never know exactly what we may find, or where it may be.

Overnight: Adak Island

Day 8

Heading Home

We'll take one more look at Clam Lagoon and perhaps a few other sites, then return to town to prepare for the return flight to Anchorage, the end of our Adak Adventure! Or, if you are staying for additional time, we'll do it all over again, looking for new migrants and vagrants every day.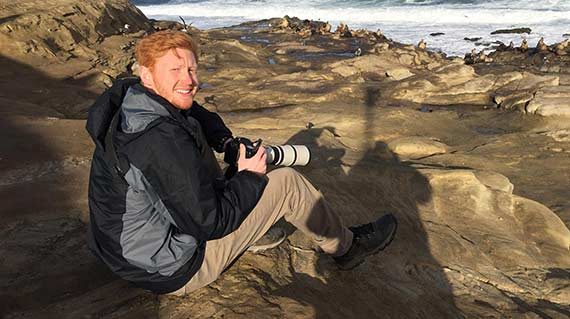 Tours: Alaska, Arizona, California, Colorado, Florida, Maine, Minnesota, Ohio, Texas, Wyoming, Birding Ecotours (Worldwide)
ALASKA - ADAK ISLAND TRIP REPORT - MAY 2012
ADAK ISLAND
20-27 May 2012
Top 10 lists are voted upon by the participants at the completion of each tour.
1 – Ruff – a white male flew into a large wetland at Contractor's Camp, preened, bathed, and drank for 5 minutes, then flew east and out of sight, never to be seen again.
2 – Hawfinch – this handsome Eurasian finch is slightly smaller than an Evening Grosbeak. A male and a female spent at several days at one of our feeding stations.
3 – Laysan Albatross – distant but good looks at one over the open ocean, north of the old Loran Station.
4 – Ancient Murrelet – this striking alcid was numerous everywhere that we scoped coves and open ocean.
5 – Brambling – a male and female were present for several days on the grassy flats at Clam Lagoon, a somewhat unusual spot for them.
6 – Yellow-billed Loon – we found one from Palisades Overlook, the only individual of the week.
7 – Bar-tailed Godwit – we sometimes found 6-7 in a day, with an occasional individual in high breeding plumage.
8 – Common Snipe – seen and heard well in courtship flight over Contractor's Camp.
9 – Eurasian Wigeon – as many as three pairs were present at Clam Lagoon for the entire week.
10 – Song Sparrow (maxima) – this local race is impressive by both its size and plumage.
Our favorite mammals were the adult SEA OTTERS carrying their nearly fully-grown young on their chest. We counted a minimum of 24 Sea Otters, mostly in Clam Lagoon.